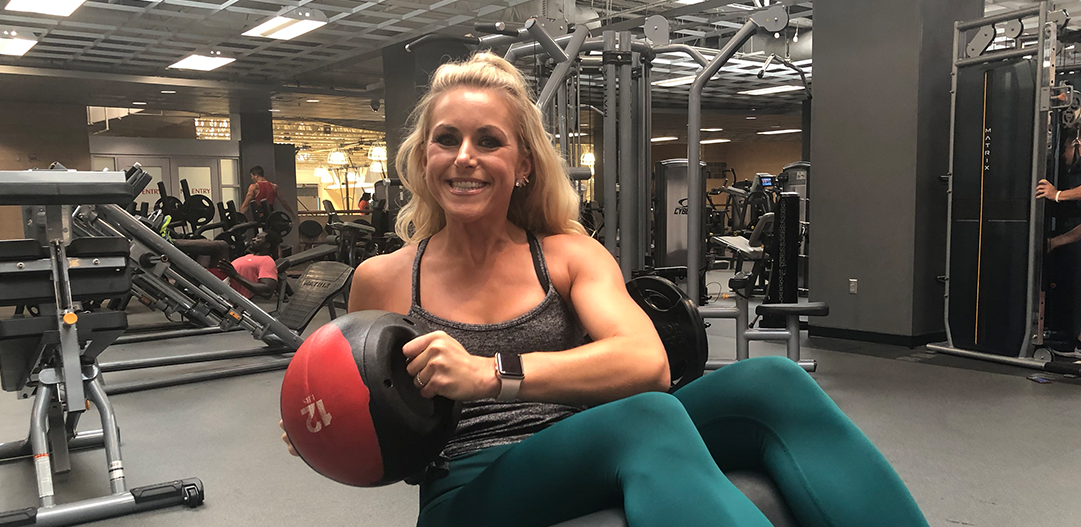 One-stop Fitness for Mind, Body and Spirit
Lindy Fischer is a busy woman. She's a wife, mother to three daughters and owns her own business. You might think she would have a hard time fitting a healthy and varied fitness routine in her busy schedule. But you'd be wrong. In fact, Fischer says Carmel Clay Parks & Recreation's Monon Community Center (MCC) is a place she has been able to turn to for everything she needs for her workout routine — all in one place.
"The Monon Community Center and all it has to offer has literally changed my life," shares Fischer. "I've met so many friends there and I've never felt better in my life both from a physical or mental standpoint. I've never been stronger."
Fischer's commitment to getting stronger and healthier began when she and her husband Marcus moved back to Westfield, Indiana just over two years ago. She had just had her third daughter and was searching for a place to get back in shape and lose the 50-plus pounds she had gained during her pregnancy. Her sister, who works in the Carmel area, knew that the family had been used to a recreation center type atmosphere for their workout routines when they were in Chicago. She knew the MCC was the perfect place to recommend to Fischer and her family.
"After a decade of living in Chicago and paying the high cost of personal trainers and membership fees, the MCC is exactly the type of place we were looking for that offered group classes, 30-minute express classes, fitness and workout areas, personal trainers, both an indoor and outdoor pool, and so much more," says Fischer.
"It is unbelievable that you can choose from so many fitness options and classes offered at so many different times of day for such a reasonable cost. You can't get that at other gyms."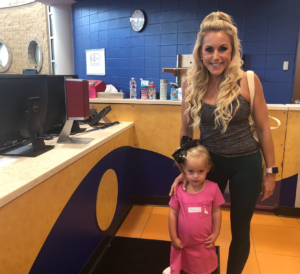 Beyond a fabulous place to work out and stay fit, Fischer says KidZone (childcare) may have been the biggest selling point to making the MCC their family fitness home. "For me to have the time to work out, I needed a place for my daughter to go. She absolutely loves KidZone and I knew that she was safe and happy and that allowed me to feel comfortable leaving her there while I focused on my workout."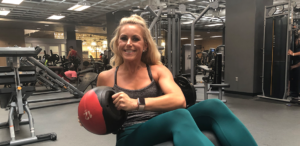 Fischer's individual workout includes everything from group fitness classes to a new hybrid powerlifting program created by her MCC personal trainer Ryan Mosley. "When I first started working out at the MCC, I had reached a plateau. I knew I wanted to incorporate new challenges and goals into my workout routine. I've been working with Ryan ever since and he has really helped me take my strength and fitness to a whole new level."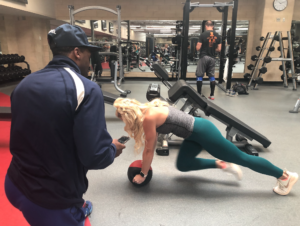 Mosley shares that when he first started training with Lindy she was already in good shape. She ate well and was already running every day. "Lindy also was a great athlete from her days as a cheerleader and gymnast," Mosley says. "Her main goal from the start was strength, better abs after having children, and shaping up her legs, buttocks and hamstrings. Her upper body strength was her biggest weakness, so I adapted a hybrid powerlifting program to fit her specific goals."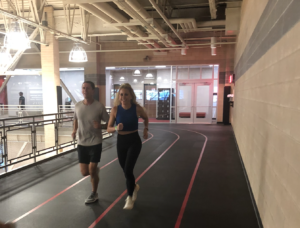 Her husband Marcus sometimes joins Fischer for a workout where they incorporate some cardio and then work through some of Mosley's powerlifting program together with Marcus as spotter. Marcus shares that he thinks of himself as a pretty fit guy, but he realized a few minutes into Lindy's strength training routine that this was a bit tougher than he had anticipated. "She's really my inspiration and I have the utmost respect for her commitment to health and fitness. She is just amazing," Marcus shares.
Amazing might be just the right word to describe the petite dynamo with a sparkling smile. Her "I've got this" attitude seems contagious and her newfound strength and power are obvious. Fischer shares she is energized by her growing strength and says she is stronger not just physically, but mentally and spiritually as well.
"Working with a personal trainer can help improve and enhance a workout and increase a person's overall health and mental state," shares Mosley. "Having a set program with a personal trainer can help hold you accountable and it's key in keeping you motivated."
Accountability and motivation are words that Fischer seems to gravitate to and live by.
"All I can say is 'do it' and do it for yourself. It is so convenient. I can take my kids with me and know they are safe, and I've never felt better in my entire life," says Fischer. "It doesn't matter what shape you are in today, your age or your own personal goals. Take that first step to getting stronger. It's all in one place just waiting for you."