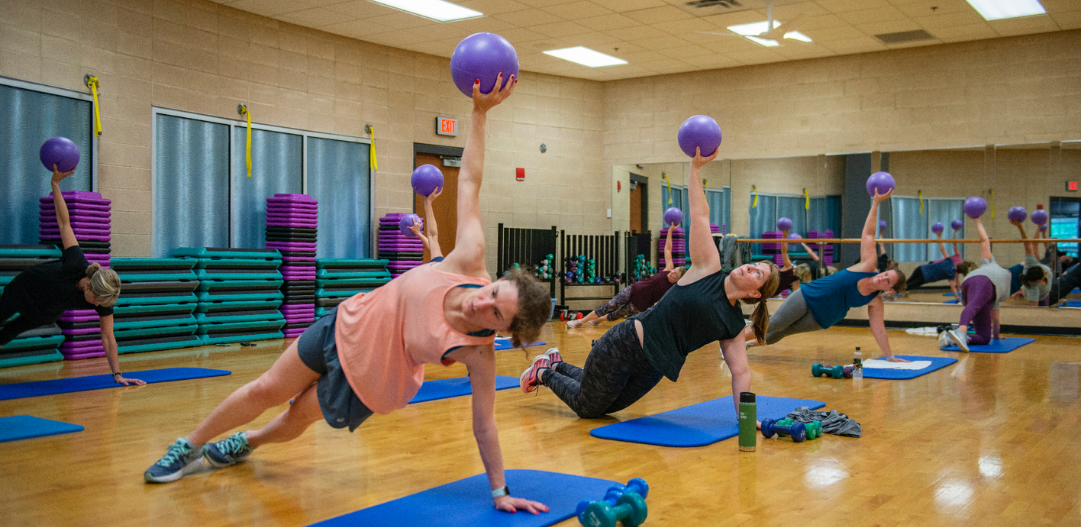 If you've read any of our Member Spotlight blogs you'll know that one of the main reasons our members love the Monon Community Center (MCC) is because (say it with me) we're not just a gym — we're a community. 
But how do you find your people? If you're looking to build your community at the MCC, try one of our group fitness classes! Exercising in a group setting offers MCC members the opportunity to connect with new people, maintain high levels of motivation, and enjoy the convenience of a pre-planned exercise routine. 
What is Group Fitness?
A group fitness class is a workout led by a skilled fitness instructor in a supportive group setting. Our instructors guide you through the workout, and you just follow along!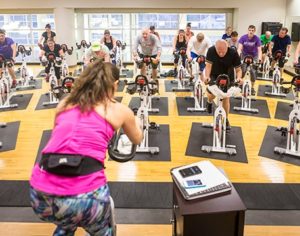 They're always there to answer any questions you have and give tips on improving technique and form.But you know what makes group fitness even more amazing? The people in the class! They play a huge role in making it effective and enjoyable. Everyone cheers each other on, pushes each other to step out of their comfort zones, and even sparks some friendly competition. It's like having your own cheer squad and workout buddies all in one. It really motivates you to give it your all and reach new heights. 
Expert Instructors
Our instructors are the real superheroes behind our group fitness classes! They're experts in their fields and bring their A-game to every session.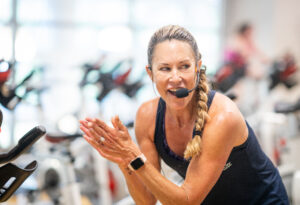 At the MCC, we've got an incredible lineup of group fitness classes for you to choose from. And guess what? We've got a bunch of amazing instructors with their own special personalities and teaching styles. They're the heart and soul of our classes!
If you're curious to know more about these awesome instructors, check out our Staff Spotlight blogs where we shine a light on these passionate and hardworking individuals. Get to know them better and find the perfect instructor who matches your vibe and fitness goals. It's all about finding the right fit for you! 
Benefits of Group Fitness
Motivation 
When you exercise by yourself, it's easy to throw in the towel halfway through your workout. In a group fitness class, your instructor and classmates will challenge you to go above and beyond your regular fitness routine. With the music pumping through the speakers, your instructor shouting encouragement, and the electrifying energy of your classmates, you'll be determined to stick it out till the very end!   
Reduced Mental Load  
Sometimes the mental strain of developing the perfect exercise routine can be just as exhausting as the actual work out! Not only do you have to consider how to meet your fitness needs, but also how to keep yourself entertained and focused. Luckily, you don't need to think about any of that in a group fitness class — all you have to do is show up, follow along, and have fun! Your instructor will take care of the rest.  
Variety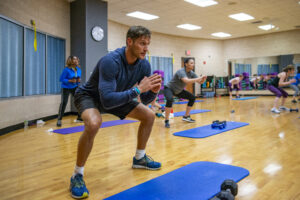 Have you ever been stuck in a workout rut, doing the same workouts over and over again? Group fitness classes can add a ton of variety to your fitness routine. The MCC has a wide range of fitness classes to choose from, including yoga, aqua Zumba, cycling, strength training, and many more! Plus, it's common practice for group fitness instructors to mix up their routines each class, so you can learn new moves each time you attend! 
How to Sign up/Be Courteous
You can sign up for a group fitness class by visiting our group fitness page (find a step-by-step walkthrough here). You must register for each individual class you want to take. Our group fitness classes fill up quickly, so make sure to register ASAP — reservations open 48 hours in advance. For example: if your class is on Monday, reservations will open Saturday at 5 a.m.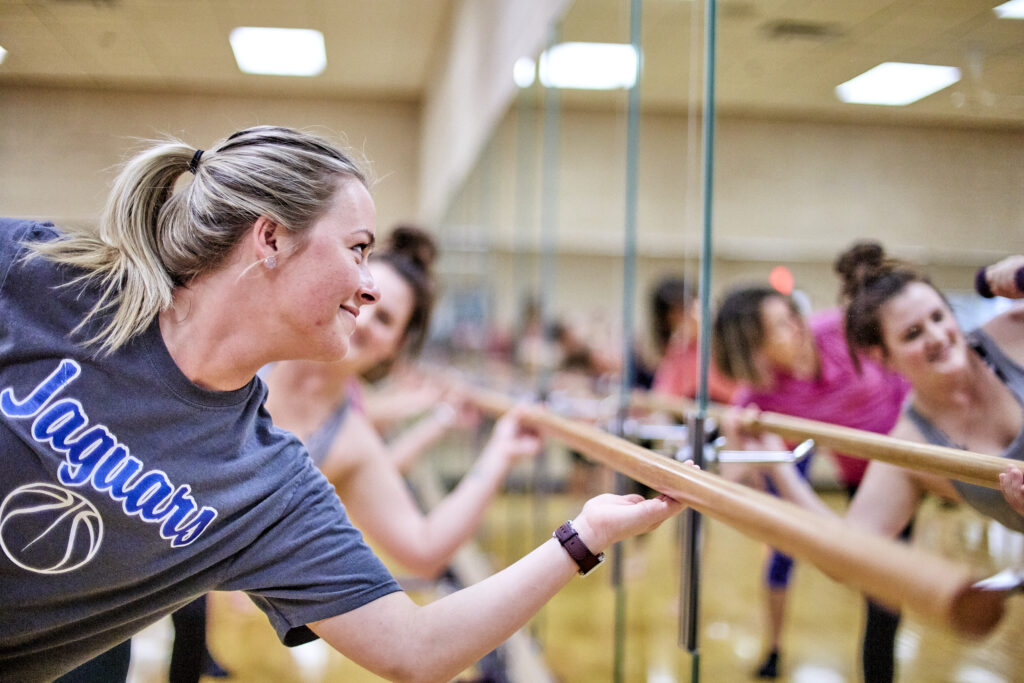 If the class you want to take is full, you'll be put on a waitlist. We ask that you be courteous and cancel your reservation if you cannot attend a class so that someone on the waitlist can take your place. You'd want someone else to do the same for you!  
Here are some other ways that you can be courteous to your classmates (and instructor!):   
Wait for the previous class to end before heading inside 

 

Wipe down/put away any equipment 

 

Use lockers to store your belongings (so people don't trip over them!) 

 
Conclusion
There are many mental, physical, and social benefits to attending a group fitness class. It's never been easier to add some variety to your workout while also getting tips and tricks from an expert instructor. Sign up for a group fitness class today!