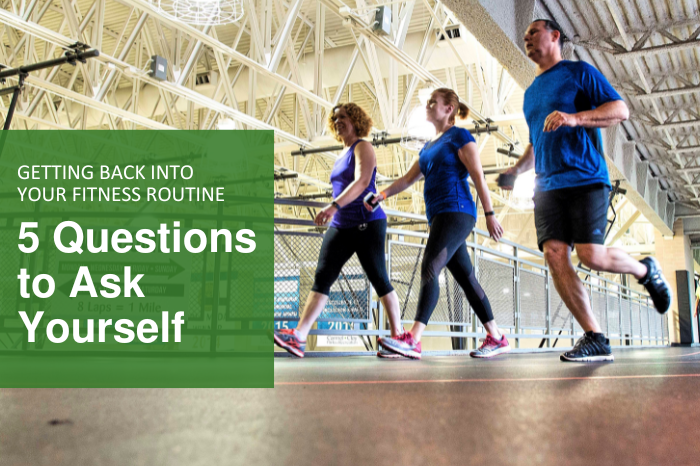 5 Questions to Ask Yourself When Starting Your Fitness Routine
Congrats! You're reading this blog, which means you have some sort of interest in starting your fitness routine – for the first time or maybe the tenth (no judgement here!). Before you step into a group fitness class or grab a weight in the fitness center, there are some things you can do to prepare that will make showing up and doing the work easier and less intimidating.
We sat down with our Fitness + Wellness Supervisor Shannon Strzynski to talk about steps we can take to successfully get back into our routines and, most importantly, stick with them. Here are five questions to ask yourself as you ease or run full speed ahead into your fitness journey!
What's my goal?
The first step you can take toward making a successful change in your health and fitness is setting a goal. Is your goal to work out 3-4 times a week, 5 times a week, every day? No matter what it is, set a specific, attainable goal in your mind. Write it down and put it somewhere you'll see it often. I like to post sticky notes around the house! It's also important to remember that we are most likely not going to be able to start where we left off. Pace yourself, give yourself some grace and don't give up!
What will help me achieve that goal?
A fitness journey isn't just about completing an exercise, it's about participating in things we love. What do you enjoy? Finding an activity you love will be key in maintaining a fun, lasting fitness journey. It's okay if you don't know what that is yet. Commit to trying a variety of things (group fitness classes, workouts indoors and out, self-led workouts in the Fitness Center and pool) to learn what activity brings you joy. When you find it, incorporate it into your fitness routine.
Who will help me achieve my goal?
There are so many ways to stay motivated along your fitness journey. Do you like bonding with others in group fitness classes? Do you need a personal trainer to hold you accountable? Motivation comes in many different forms, so figure out who your fitness motivators are and surround yourself with them. Make sure they know your goals so they can help hold you accountable!
Is my health a priority?
How much time you put into your fitness journey is a personal choice that will look different for everyone. There is no right or wrong when it comes to fitness, again … just showing up is key! Carve out time for healthy habits in your schedule. However much time you set aside for your fitness goals, make the most of it!
How am I showing gratitude?
While we were staying at home, our fitness journeys looked different or were maybe even put on hold. Now that we're back up and moving regularly, make sure you remain grateful for the opportunity! Practice fitness gratitude to be able to walk, run, and lift again with others.