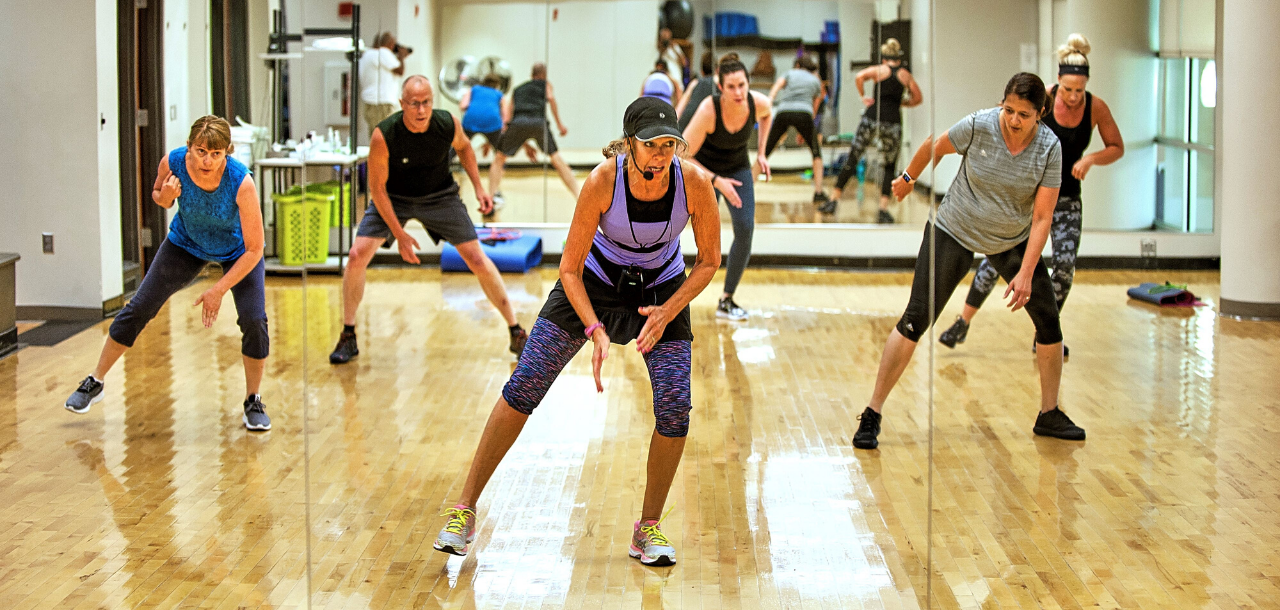 Everything you need to succeed in one place, at one price, with all access at the Monon Community Center
It seems like just yesterday we rang in the new decade and you set your goals for 2020. It may seem soon for an evaluation, but we think it's the perfect time to check-in. Now that we're more than halfway through January, how are you holding up? Still full steam ahead? We hope so! We want you to crush those 2020 goals. That's why we're coming to you with some tips for staying on track with your health and fitness goals this year.
Find what you enjoy.
Have you ever set a goal like … this year I'll be a runner? Only to discover you don't like running? And you ended up frustrated with no goal at all?  MCC Fitness Supervisor Brittany Ignas shared that when you set an exercise goal it's important to give yourself time and flexibility to find a workout you enjoy.
One way to do that is trying out a variety of group fitness classes at the Monon Community Center. With a membership, you have access to 100+ classes a week, so there's plenty to try! You can also try working out at different times during the day. If you're not a morning person, don't get down on yourself for not enjoying an early morning workout. Try working out over lunch or later in the day. When you find something you enjoy, and at a time you enjoy, you're far more likely to stick to it!
Shift your mindset.
Your perspective/approach to your goals is crucial to your success! If you set long-term goals (like running a marathon) without short-term goals along the way (like running a 10K or strength training), your long-term goal can seem daunting and unattainable.
Brittany suggests thinking of your resolutions as long-term lifestyle changes. If your goal is to run a marathon, how can that become a lifestyle change? Setting a goal to eat healthier (to feel better on your runs) and running three days a week (to build endurance) would be a good place to start. How can you shift your mindset about our 2020 goals?
Invest in learning.
If your goal this year is fitness related, your goal shouldn't be just about losing weight or gaining muscle. A long-term fitness goal should include education. Every person's fitness needs and journey are different. Whether or not you're new to working out, personal training is a great place to start. You don't have to invest in a long-term personal training plan to reap the benefits. Consider scheduling one to three sessions to learn about the equipment in the MCC Fitness Center and work with a certified personal trainer to develop a personalized plan that helps you reach your goals.
Personal training can also be helpful if you have a specific fitness goal such as to run a marathon, complete a triathlon or start weight lifting. At the MCC there are personal trainers who are passionate about and invested in those things and can create a plan specifically to help you reach your goals. You may have written off personal training because of the additional price, but remember, working with a personal trainer for even a few sessions can be immensely helpful for your long-term success. Oh, and did we mention we're now offering your first personal training session for just $30?! Click here to learn more about our personal trainers and their specialties.
We hope 2020 is your year and we hope to help you get there. Let's take on 2020 together, here's to a healthier year!
Quick links to help you succeed: