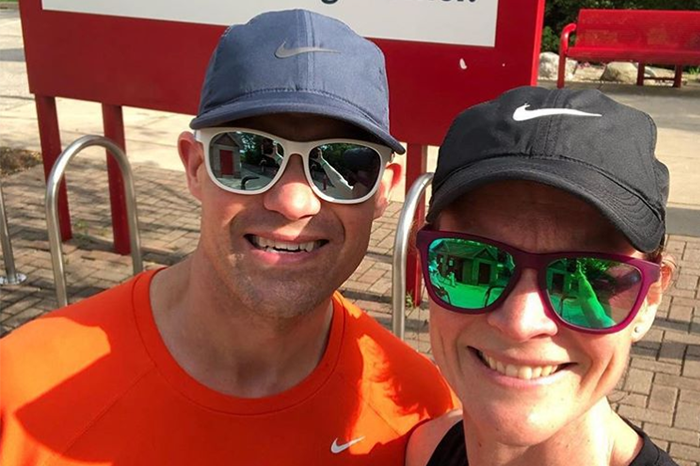 Enhancing Your Fitness Journey with Community
By: Jason Bletzinger
The power of people.
Fitness is contagious. I'm not a doctor, but according to a 2010 study published in the Journal of Social Sciences, research shows the healthy actions of others can rub off on us. The study found that participants tended to gravitate toward the exercise behaviors of those around them. So, exercising with a group of people has the potential to positively impact your fitness journey.
That's exactly what motivates me in my fitness journey.
As an avid runner and fitness enthusiast, personal fitness is a high priority for me and my family. Whether I am running on the Monon Greenway, running on the indoor track at the Monon Community Center (MCC), or strength training in the Fitness Center, Carmel Clay Parks & Recreation (CCPR) and the staff and guests around me are my motivation.
All of these people have truly become my fitness community. Here's how:
Increase my commitment to a fitness routine.
Working out with others helps you stay consistent and committed to your fitness goals. My family and I moved to the Carmel area in the summer of 2018. This move came with access to the Monon Greenway, and an active running community. Before moving to Carmel, when I trained for half and full marathons, my runs would be on my own and on routes without a soul in sight. While I do sometimes appreciate lone runs with just me, my music and the pavement, I crave connection with other runners. That's something I get on the Monon Greenway.
Support and accountability.
When you are part of a supportive fitness community you tend to develop a commitment to your workout or training regimen. The atmosphere holds me accountable for my fitness and helps me realize I am part of something bigger than myself. Over the past couple of years, I have built up my social media presence on Instagram to document my fitness journey. Having the opportunity to share my fitness journey with others as a CCPR influencer has allowed me to connect with local fitness enthusiasts and share in their journey and triumphs. This has afforded me another avenue to hold myself accountable for my fitness, as well as celebrate the accomplishments of others.
External motivators maximize my energy.
Working out with a group of people has mental advantages. In my experience, there is a stark difference between my energy while running on my own versus running on the Monon Greenway or the MCC indoor track. Interacting with walkers and fellow runners never fail to boost my mood. While running the Monon Greenway one Saturday morning, I passed another runner on a few occasions going the opposite direction. He offered words of encouragement, "stay strong" and "keep it up." That small act of positivity impacted my mood and helped me push through my run.
Diversify my workouts.
CCPR's fitness options keep me motivated. A healthy lifestyle involves engaging in a variety of whole-body fitness activities that mix aerobic, strength training and flexibility. By exercising different muscle groups, you increase your potential to reach a higher level of fitness and keep things new and exciting. For example, during my half and full marathon training plans, I will engage in cross-training activities to break up the monotony of long-distance runs. This helps incorporate other low-impact exercises so I can lessen the impact on my joints. The MCC indoor track and the Fitness Center are great for cross-training. The variety of parks, like West Park and Central Park, and trails provide for a change in scenery, breaking up the monotony during those longer runs. The parks also offer a lovely backdrop to document excursions.
The amenities CCPR offers support and enhance my fitness journey. With CCPR, I feel like I am part of a unique fitness community and I have been able to tailor Carmel Clay Parks & Recreation to meet my fitness needs.
Follow me on Instagram @jbletz.runs.indy and let's talk fitness.